WHY INSTALL A GATEWAY?
  24 Hour Alarm Monitoring For Life
  Arm or Disarm Your Alarm System From Anywhere In The World
  Automatically See What Sensor Has Armed Where and When
  Set Your Alarm to Disarm When The Front Door or Garage Door Is Opened
  Set Your Lights and Radio to Come On When You Are Not Home and It Is After Sunset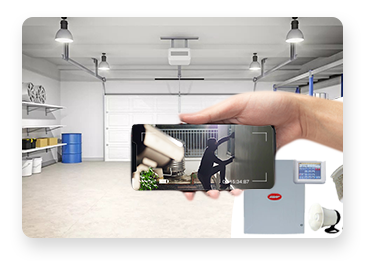 WHAT CAN I ADD TO MY ALARM SYSTEM

Yale Smart Lock:
Have your alarm disarm when a recognized code is entered. Never forget your keys again, unlock from your smartphone or lock keypad. See which family member enters your home and when. Allow access for 5 minutes or up to a whole year to a certain individuals/s

Garage Door Controller:
Did you close the garage door?? Open or close your garage door from anywhere in the world. Getting a delivery? No problem, open the garage door and close it afterwards straight away.
Smoke Alarms:
Smoke alarms are no doubt a life saver if you are asleep and your home catches fire but what if you are at work? With a connected smoke alarm you will be notified immediately if your home is on fire any time of the day.
Two Way Camera:
See what is going on inside your home and have a conversation to whoever is in there from anywhere in the world. Set up as a baby monitor in seconds.

Light:
Turn on your bedside lamp if an alarm sensor is triggered. Turn on or dim your lights at sunset each evening. Save electricity, set your system to turn off all the lights when get into bed.

Blinds Or Curtains:
Open or close your blinds or curtains after sunset or sunrise or anytime you wish.
Home Automation:
The possibilities Really are endless, if you can turn it on or off you can now controll it through your smartphone or tablet.
Contact us now for pricing on any of the above items.